A Year on, Where Are We?
First, a Brief Summary
Malcolm Turnbull, when Minister for Communications in the Abbott Government, signed off on providing the Numeralla District on the Monaro of SE NSW with a mobile phone tower to serve the District. This came about as the result of extensive lobbying by the Numeralla District community following the Mobile Phone Black Round One Program announcement.
To save an estimated $150k the tower is now proposed to serve only the Numeralla Village, a small fraction of the District's area which means the District will remain black, leaving residents, farm and forest workers, tourists and itinerants without mobile communications. Further, the District has no local ABC radio reception, and ABC SE NSW is the designated local emergency broadcaster. In times of natural disaster, especially bush fire, many people are vulnerable and exposed without access to information as a result.
Peter Hendy, then Liberal MP for Eden Monaro and the Hon Paul Fletcher MP, when Parlimentary Secretary for Communications, told the community at the official announcement at Numeralla Diggers Memorial Hall on 29 June 2015 that the Numeralla District would get a mobile phone tower.
On 06 June 2017, Telstra advised the Numeralla community that if it came up with $500,000 within 10 days to augment their budget, a District solution might be possible, or might not due to time constraints.
This has become a fiasco that needs to be resolved ASAP. The Department needs to be directed from the top to fix it.
We have a petition running over on change.org Please add your name so we can get this fixed, we're not the only ones:
https://www.change.org/p/senator-the-hon-mitch-fifield-ministers-for-the-department-of-communications-and-the-arts-provide-mobile-phone-coverage-to-the-numeralla-district-a843bd61-b1cd-42b4-ad57-98a9ea25c577?recruiter=30965300&utm_source=share_petition&utm_medium=copylink&utm_campaign=share_petition
A Fuller Story
On of Tuesday 06/06/2017 NDAI, the Numeralla community, was told that in order for a tower to be constructed at the Hangman we have to provide Telstra with $500,000 for the power connection by Thursday 15 Jun 2017, ie next week.
This follows a lengthy period whereby NDAI and others have initially lobbied for a tower, then attempted to find out what was planned, followed by attempts to get the best value for money outcome for all. This has been hampered by a lack of communication and consultation by Telstra and their apparent inability to liaise with a key landowner.
To better understand the situation, here is a summary sequence of key events and communications that have occurred:
2013 – Black spot eradication program announced as Liberal/National policy for 2013 Federal election
07 Sep 2013 – Liberal/Nationals elected to government with Liberal Peter Hendy elected to represent Eden Monaro
25 Jun 2014 – CMSC (Cooma Monaro Shire Council) passed a motion to support in some way, either or both with a cash or an in kind contribution towards any local black spots that secured funding
08 Dec 2014 – Round One Blackspot Guidelines released with CMSC identified as an 'in principle co-contributor'

copy attached FYI, with some commentary added

25 Jun 2015 – General Round One funding announcement by Government with total of $385,000,000 available, implying an average of $771,543 funding for each of the 499 sites selected
29 Jun 2015 – Public meeting held at Numeralla Hall with MPs Peter Hendy and Paul Fletcher, NDAI, media etc in attendance  to announce Numeralla tower funding with Telstra as successful tenderer. No technical solution was identified, ie tower location etc, and therefore TBA. Attempts to find out what was planned are unsuccessful, for some time
NDAI, with third party help, identified the Hangman as a potential site, offering about 80% of the mobile phone coverage of Numeralla Mt without the likely tenure issues or cost of power and access that Numeralla Mt entails:

Village site estimated to serve about 120 residents and adjacent area
Colocation on the NBN tower has an increased coverage area and up to 170 residents served
A Hangman site serves about 850 residents and much greater area in particular, including other identified unfunded black spots

Subjectively, the incremental cost of power seems to make Hangman a 'no brainer' for a value return by addressing a far larger blackspot than just the village

02 Jul 2016 – Liberal/National government re-elected, but with Labor's Mike Kelly elected once again to represent Eden Monaro
08 Sep 2016 – NDAI advised by Visionstream, Telstra contractor, that 4 sites are to be considered, 3 of which involve a new tower:

village tower adjacent to oval, as per Dept Comms database and website, (and supposedly what Telstra tendered for)
tower near garbage transfer station above village, offering more altitude, with proximity to power and existing village telephone exchange
co-location on newly constructed NBN tower as suggested by NDAI as a better option than the village or transfer station
Hangman tower as suggested by NDAI as an even better option

25 Sep 2016 – Visionstream visit Numeralla for initial scoping. By coincidence, the Visionstream employee met the preferred Hangman site owner, Ken Schofield, on Peak View Road near his gate

Both parties report the meeting did not go well

17 Nov 2016 – NDAI approached 3 companies for estimates to connect the Hangman site with mains power:

estimates come in less than $80k for 1.5 kms along existing largely cleared fencelines
subsequently we determine that it should be 1.8 kms and some clearing will be required, nevertheless, NDAI considers $100k should just about cover the lot

14 Dec 2016 – Telstra and Visionstream representatives met with NDAI and interested parties at Numeralla Hall and subsequently visited the Hangman and NBN sites

NDAI was not initially approached about the meeting, it was based on hearsay that NDAI followed it up and became involved
Telstra made the key point that they have only been contracted by Govt to address village black spot as identified on the Dept Comms website
NDAI highlighted/argued that Numeralla is a district, not just a village
Telstra seem impressed by the apparent benefits of a Hangman tower

Telstra state that an off grid power solution is unacceptable

Liaison with Ken Schofield, owner of the preferred site, had yet to be established

22 Dec 2016 – Telstra advise that the Hangman site looks positive "….. This analysis looks positive. It is indicating that a 40 metre monopole at candidate D should provide reasonable coverage to those parts of Numeralla included in the blackspot tender documentation. ………"
Jan 2017 NDAI liaison with Ken Schofield identified that that there has been no contact with him with by Telstra or Visionstream since the accidental meeting on Peak View Road in 25 Sep 2016

Telstra had previously advised NDAI of the nature of what they would be offering to Ken re legal fees, lease term etc which NDAI passed on to Ken
Ken stated to NDAI that he is not averse to a tower on his site and prepared to hear what is on offer from Telstra
Ken has previously obtained a quote for power to his house, not too far from the proposed tower site, @ $100k

28 Mar 2017 – Telstra advise that Visionstream have been unsuccessful in attempting to contact Ken and advise that the NBN colocation is now likely their preferred option as a result

Ken has subsequently stated that Telstra have not approached him

25 Apr 2017 – the following independent advice received "Colocating on the NBN tower is not filling in a black spot therefore it should not and cannot proceed. A different site, other than the NBN tower, must be chosen if this really is a black spot program, and really is the optimal spend of taxpayer money."

There is a strong view that a village/NBN location does not comply with the Black Spot Guidelines
NDAI has no access to the contract Telstra has in place and the terms may well vary from the Guidelines
Details of the Telstra contract are 'commercial in confidence'

Apr 2017 – Ken Schofield advised NDAI that he is still prepared to liaise with Telstra and sympathetic to a tower on his property
12 May 2017 – Telstra advise that the power supply cost estimate they have made is $500,000. They also note that we had advised them of Council's previous undertaking to make a contribution which they then suggested would assist the construction

The Council merger has taken place in the interim and Dean Lynch, former CMSC mayor is the new Snowy Monaro Regional Council, SMRC, administrator
NDAI considers that as Council was identified in the Guideline document that Telstra tendered on as an in principle co contributor, that Telstra should already have been in contact with Council
We consider $150k to be a very generous estimate for the power connection based on estimates obtained by NDAI

23 May 2017 – NDAI advised Telstra that:

Ken continues to be prepared to talk to Telstra and that NDAI can relay messages if preferred
Their estimate for the power connection is way out

23 May 2017 – NDAI requested advise from Council of any possible contribution, bearing in mind their previous resolution, and inclusion in the Black Spot Guidelines as an in principle co contributor

subsequent messages and phone calls have yielded nil response, not a, or yes, no, or maybe has been received

31 May 2017 – Telstra advised that they wish to undertake a site meeting 'real soon' with community representatives and Ken Schofield
02 Jun 2017 – Telstra requested that NDAI arrange meeting for 15 Jun 2017
06 Jun 2017 – Following liaison with Ken, 15 Jun 2017 meeting confirmed with Telstra
06 Jun 2017 – Telstra responded with the following included:
…………We look forward to meet you on Thursday 15 June ……………. Our objective
1)      Discuss with you and the owner and agree on the HOTs
2)      Review the power costing and agree on the extra payment from you so the candidate can progress. Please note the extra payment would be required immediately in order to continue with the candidate. As we must have the site on Air by June 2018, we cannot afford any further delays.
Looking forward for a productive outcome…………….
Somehow, its implied that NDAI/communityare responsible for the 'delays' !!!!!!
06 Jun 2017 – phone conversation with Dept of Comms advises that contract details with Telstra are 'commercial in confidence' and that Telstra are only contracted to address the village black spot
06 Jun 2017 – Mike Kelly, our Federal MP holds a public meeting at the Cooma Hotel. Among others, NDAI representatives attend and explain the situation. Mike is not unaware of some/all of what has been occurring

Mike advises that we have his support, but does not quantify what that means
Mike has previously expressed his support for colocation and continues to do so

John Barilaro, our National State MP, has in the past expressed his in principle support of a Numeralla tower too, and advised that any specific concerns should be directed to the Federal Government
In NDAI's view they are not responsible for any delays, NDAI believes it has responded in a timely manner to all requests from all parties and feels that it has done more than could/should be expected. Note too that NDAI is comprised of only volunteers doing this on behalf of the community in their spare time. All NDAI committee members have things they'd prefer to be doing.
 Right now, this is the first advice NDAI has received that the community is responsible for the power connection should a Hangman tower proceed. We, NDAI, the Numeralla community do not have $500k, let alone $150k, or even $5k for power. Our politicians can't/won't help and Council and its Administrator remain silent. If NDAI had been advised of this situation by Telstra earlier, NDAI may have been able to access some funding.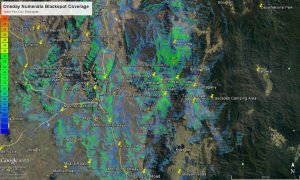 This is the predicted coverage of a Hangman tower; note the yellow markers are all currently identified black spots: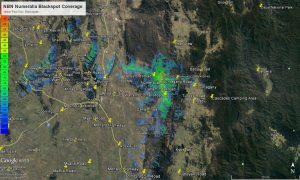 And this is for the NBN tower co location, note the yellow markers are all currently identified black spots:
A quote follows from the telecommunications expert who prepared the above maps for us:
"..Conclusion: It's a lay down mazaire. A site near Hangman covers so many more Government blackspots that the Government would be stupid not to choose it, especially given the delta is less than a new site spend.   
So only Government, and large Corporation bureaucracy stands in the way of the local community getting what's right.
Quite frankly, I do not understand why Telstra has not apparently to me, gone back to the Government advising that it can do so much more for only a minor delta increase in spend. Maybe lack of vision, maybe lack of skill, maybe Telstra can no longer adapt itself to the changing needs of its customers like it once could. Maybe it's become too bureaucratic to be able to do what's right for itself, as well as its customers.
Also, by building a site that provides broad area coverage, it creates the opportunity to deploy much cheaper microcells in the small gaps. That should be something the Government welcomes as it goes through rounds 2 and rounds 3. Cost reductions through proper planning are usually embraced by everyone conscious of not wasting tax payers money.
What is also clear, is that the Hangman site provides extensive interlocking coverage with the existing network. Interlocking coverage is experienced by a user,  when a car drives up a hill, has coverage, then goes over the top and loses coverage, were it not for a site beaming in from the other side. A site at Hangman will, in many cases, take over coverage where the current network does not reach along the Monaro Highway, and many other roads too. You can see the effect in the predictions.   
Hangman is a strategic network build, providing extensive area coverage, freeing up the Government to spend less on far cheaper microcell's, which act a bit like colouring in paint chips on a car. Minor spends, plugging the odd small hole. Invest in one expensive site that takes care of the base load coverage, then spend small amounts on strategic infills in the area…………."